Trillion Trees Corps Ceremony With American Legion Riders Post 9 Honors 6 Veterans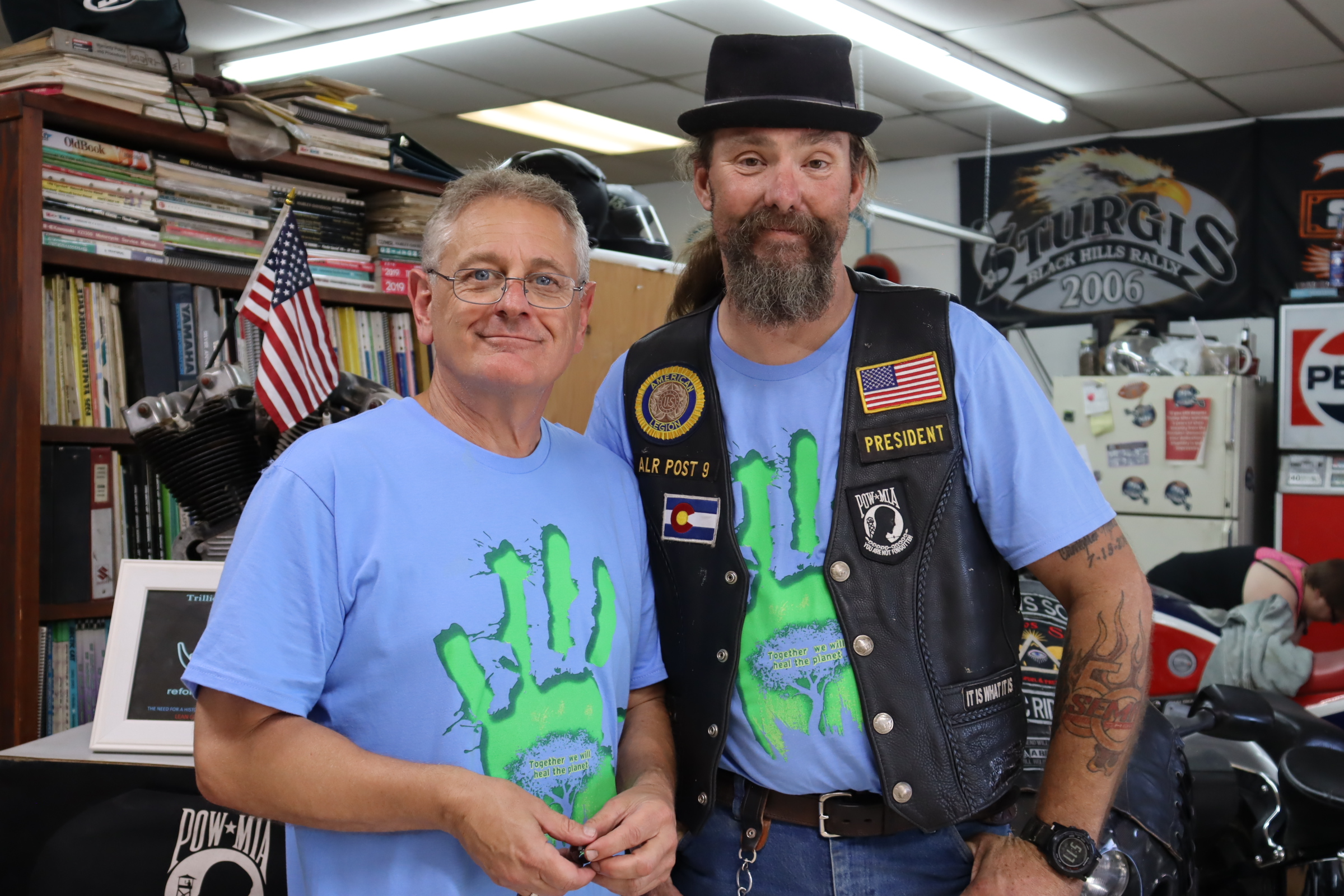 Description: Trillion Trees Corps CEO Steele Smith and American Legion Riders Post 9 President Billy Hallman Organized a Celebration of Heroes by Together Tours at Outcast Cycles on September 18, 2021.
Trillion Trees Ceremony With American Legion Riders Post 9
Trillion Tree Corps CEO Steele Smith and American Legion Unit #9 Auxiliary, American Legion Riders Post #9, and American Legion Riders Post #168 honored Kenneth Bernal, Jan Carol Bolinger, Nicholas Frank Koch, George Francis Pawlish, Verald Bud Quick, and William Glenn Parker with a Celebration of Heroes Memorial Ceremony on September 18, 2021.
A large gathering of family and friends attended the event, which included a performance from Denver band Snakefoot, a tree garden planting, and a memorial ceremony for six area veterans who recently passed. The event was well attended and a great success, especially for a start-up fundraising effort in Southeast Colorado.
Veterans Honored:
Kenneth (Kenny) Bernal Obituary
George Francis Pawlish on honorstates.org
William Glenn Parker Virtual Eulogy
Interview with Trillion Trees Corps CEO Steele Smith:
SECO News: This is Adrian Hart with your Southeast Colorado News on seconews.org
I'm here at Outcast Cycles the American Legion 9 Meeting Hall and I'm with CEO of Trillion Tree Corps, Steele Smith. How we doing today Steele?
Smith: I'm doing excellent. Doing excellent.
SECO News: Very good, now your organization, you're based out of Denver, but I heard you earlier say that you've actually got projects across the country.
Smith: Absolutely, we're based out of Denver Colorado, we incorporated in July of last year after the Trillion Tree Act was passed by the, actually the president of the United States signed it at the world economic forum. The goal is to plant 1.2 trillion trees across the globe and America's part of that is 100 billion trees. So the Trillion Tree Corps, the idea is to be a big part of planting those trees across the country and part of that is getting the word out that we are going to be helping out veterans get jobs in forestry. Taking them into forestry projects, and part of that is in the beginning we're going to be going on a tour, the first leg of that is here in Colorado.
SECO News: Cool.
Smith: We're going to be in all fourteen districts, we're going to do a memorial tree garden in each.
SECO News: Okay.
Smith: We ask each district to pick, depending on the size of the district six or twelve veterans that they want to honor. It's called Celebration of Heroes, and this is our seventh honor ceremony and we've got six amazing heroes. When you hear these stories at the memorial its pretty amazing stuff. Last week we did 9/11, we did Commerce City Colorado. We did twelve veterans; one veteran was 100 years old.
SECO News: Wow.
Smith: ...was in world war II, when you start hearing these stories; we're all about planting trees, bringing the forest back. Restore, Revive, Reforest, but just being able to honor veterans while we are planting those trees is a pretty cool thing.
SECO News: That is a cool thing.
Smith: And back in the 30's FDR started the Civilian Conservation Corps, everybody knows they built the Hoover Dam and highways and roads, but what a lot of people don't know is that they planted 8 million trees and employed three million people doing it.
SECO News: Wow.
Smith: So our goal, we're part of a much bigger obviously Trillion Trees Act people all across the globe, every major company that is signed onto it. Obviously if you planted that many trees by 2050 you'd actually bring the temperature down by one and half to two degrees without destroying our economy. 
SECO News: Wow, so we're talking about an opportunity to put people to work.
Smith: Absolutely.
SECO News: We're talking about repairing our eco system.
Smith: Absolutely.
SECO News: And all at the same time honoring our veterans.
Smith: Honoring our veterans, and as soon as next year we're going on a 48 state tour. We've got to raise a lot of money to do that, but that's our goal. We will probably be at over 200 legions, and we're going to do a minimum of 100 in Colorado and 1,000 nationally next year while spreading the word and helping out legions. Cause a lot of folks in the legion are getting older, so we're trying to bring in some younger folks into the legion to kind of revive it. Build this forestry program, so if you're a vet with PTSD we can help you out by bringing you to the projects just as a way to get out in the forest, a way to get back some comradery. You know when you're in the service there's a certain comradery and a certain chain of command and they get out and some guys feel lost and things affected them not to well. It's a good program.
SECO News: Earlier we were talking about how it doesn't end tonight.
Smith: No, no, no it doesn't end tonight. We're in Keenesburg two weeks from now we're doing a legion rider run. Byers, Brush, Fort Morgan, and then we're doing a show like this in Keenesburg honoring twenty more veterans in four different districts. Then after that we're on to Denver, Lakewood, Fort Collins, and then the rest of the state, the western slope, and then on April 30th we kick off in downtown Denver and we'll head out for the whole country. 
SECO News: Then you are going to also kind of nursemaid the gardens and see that they continue to grow.
Smith: Absolutely. It's not a one stop shop. In Commerce City we did so well last week on 9/11, obviously the significance of 9/11 helped, we're actually going to go back there and do another show in January and finish up on the memorial garden, put rock down and get people to donate stuff and do our own little, like the Vietnam Memorial like a granite wall. It's pretty good stuff.
SECO News: Well very cool, I appreciate your service to our community, and all the communities, and particularly our veterans who have fallen. Is there anything that you want to add Steele?
Smith: I just want to add that you know when we come to towns like La Junta, Montrose, Grand Junction, not quite as big as Denver or Colorado Springs, but the people, like today we had a great reception, people are coming in to honor the vets, bringing in their own certificates and just doing really cool things to honor these people. I tell you what it's like last week when you're honoring a hundred-year-old vet or people like these women who've served 39 years in the auxiliary it brings a tear to my eye.
SECO News: Yeah.
Smith: And I love coming to the La Junta's of the world because the people are just awesome down here, good people. 
SECO News: Awesome. Thank you for your service, thank you for your time, and just like you we live here for the people too.
Smith: Awesome.